Overview
Prices
FREE *
Add-On Services - Announcer Pro
Hosted HTML Newsletter / Mailing List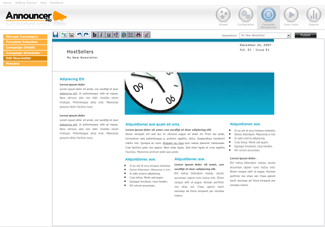 As Email boxes become inundated with messages vying for people's attention, the need to be able to communicate – and stand out – with your market in an efficient and compelling fashion is greater than ever. With the release of Announcer Pro, users have the ability to create, distribute and manage newsletter campaigns with ease and versatility. The end result is an Email newsletter tool that offers an attractive way to break through the clutter of standard Email messages. Announcer Pro is managed entirely within your WebsiteOS control panel.

Announcer Pro is an Email-marketing tool that allows you to create graphically rich newsletters, assemble and organize mailing lists, and manage the campaign, all from one easy-to-use interface. Equipped with a complete abuse-management system and anti-SPAM manager, Announcer Pro helps users adhere to the policy standards demanded within the Email marketing industry.

Announcer Pro is a one-stop-shop for Email newsletters. It is available with all Bronze and higher website hosting plans, including VMS, and we provide a FREE 50 Email Pack with all those plans so you can test drive before you buy.

Newsletter Creation
Announcer Pro makes building a newsletter quick and easy by providing numerous HTML templates to help as starting points for projects. With drag-and-drop functionality for all formatting and design, users can import any of their own graphics – or couple them with the more than 30,000 images available in the royalty-free image gallery – allowing them to design enticing, graphically-rich newsletters in minutes.

List Management
Announcer Pro provides many alternatives for users to build their databases and distribution lists, including importing csv files, text files, EasyStoreMakerPro files or simply inputting their own lists manually. Users can import, export and edit lists, as well as remove duplicate contacts from imported lists. With the built-in abuse management system, all contacts must opt-in to receive the newsletter.

Campaign Management and Reporting
There are many different options available for creating customized newsletter campaigns and reports in Announcer Pro. For example, campaigns can be programmed based on time and date, delivery in full HTML or simply as a link, and can be run in a series or as one-offs. Reporting features include tracking how many Emails were sent, received, bounced back or blocked, as well as the ability to track link utilization, list growth and record origination within lists. Combined with the abuse management system, that includes the mandatory unsubscribe link, and the anti-spam manager, Announcer Pro offers all of the control users require from an Email marketing tool.


Benefits of HTML Newsletters:
• Create engaging customer communications
• Drive traffic to your website
• Provide value-added services and information to customers
• Keep customers informed about products and promotions
• Maintain brand elements in every communication
• Offer signup for newsletter or Email messages on your website
• Coordinating templates with EasySiteWizard Pro and EasyBlogBuilder

APPLICATION FEATURES
Design Tools
• Choose your design from a gallery of pre-built newsletter templates
• Easily add your own content, format your text and add links
• Customize your layout using drag n' drop formatting
• Add your own images or choose from over 30,000 royalty free images
• Send Emails in HTML or rich-text formats
Scheduling
• Pre-schedule specific dates and times to send individual newsletters
• Schedule multiple campaigns to specific distribution groups
Contact Management
• Create individual contacts or upload existing contacts using an import/export wizard
• Easily add, edit or delete individual contacts with easy-to-use management tools
• Create group distribution lists for specific campaigns
Campaign Reporting
• Detailed reporting on
- total Emails sent and opened
- bounces and opt-outs
- followed links
- and more
• Reports available in Microsoft Excel or PDF formats
Abuse Management
• All newsletters include a mandatory unsubscribed link
• Automatic duplicate Email address verifier
• Double opt-in process to validate subscribers


*Free Announcer Pro 50 Pack included with all Bronze and higher website hosting plans, including VMS.